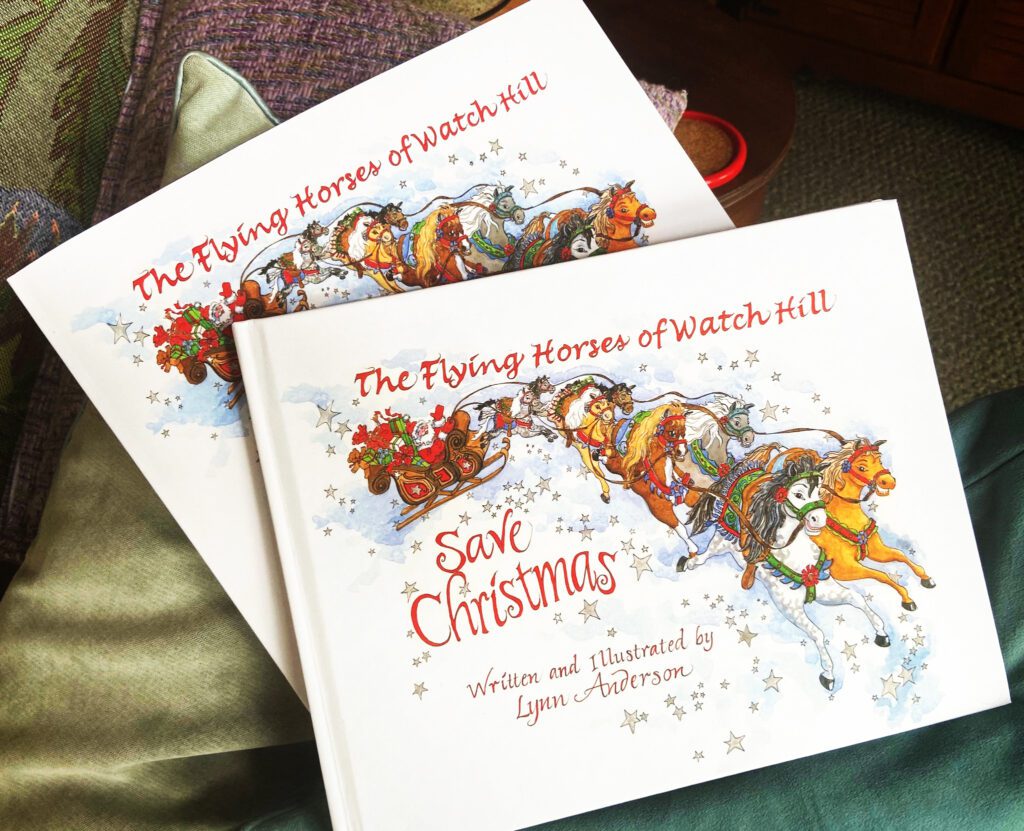 At the upcoming October 6th opening reception The Gallery Shop will have a book signing! Multi-media artist and illustrator, Lynn Anderson, will be launching her new children's book, The Flying Horses of Watch Hill Save Christmas, which is her second book about the adventures of these antique carousel horses. Put this on your Christmas gift list!
   Her first book, The Flying Horses of Watch Hill solved the mystery of where the horses  go when the summer is over and they leave the carousel building. In this companion book Anderson tells the story of how the little horses find the courage to help Santa when his reindeer come down with reindeer flu and cannot fly on Christmas Eve.
Lynn is a Founding Member of Artists' Cooperative Gallery of Westerly, and her family has a deeply personal involvement with the actual carousel in Watch Hill. Inspired by her artist father, formerly a wood carver at Mystic Seaport, her brother, Gary, and his family have been responsible for the multi-faceted upkeep of the horses during the winter to prepare them for the each next season of enjoyment since 1997. Artist and woodcarver, Gary, is also the carosel's "caretaker/historian", explained Nancy Burns-Fusaro, in her recent interview with Lynn about this project. See her full article here.

   ACGOW Artist member Tammy Blais creates highly stylized paintings, mostly featuring nautical themes,primarily using her palette knife. She will continue offering two-hour classes into November, during each of which participants will sketch a motif and then produce a finished 6x6 oil painting using only a palette knife.
   Classes are scheduled for second and fourth Tuesdays, from 5:30 to 7:30.  The cost for each session is $50. Participants may choose either of the dates the class will be offered. Preregistration is required.  Interested persons should contact Ms. Blais at [email protected] and payment may be made by cash, check, Venmo or credit card. See more at our Education/Outreach page.