Education / Community Outreach
Acrylic Painting Classes with Helen Roy
January 10, 17, 24, 31
Join fun, relaxed Acrylic Painting classes and begin to discover the power of your inner artist. No experience necessary — just the desire to have fun and explore color. Allow your creativity to blossom while you receive guidance from ACGOW artist member Helen Roy. Students can sign up for one class or several.
Classes will take place Tuesday nights at the Gallery from 5:30-7:30pm. The price is $35 per session – all materials are provided. In the first class, students will paint a colorful seascape on canvas while learning techniques and principles of acrylic painting. Future classes will involve a choice of painting on canvas, a canvas bag, a wooden sign or creating a mini painting on a small easel. Students can sign up for one class or several, Roy recommends at least 2 sessions.
Sessions will be small – limited to 6 -preregistration and payment will be due prior to each class to hold spot.  Stop in the Gallery to learn more.  Register by contacting Helen Roy at drhelenroy@yahoo.com or 401-419-4538. To view Helen's artwork visit www.helenroygallery.com, Instagram@helenmroy, or visit the Artists' Cooperative Gallery of Westerly.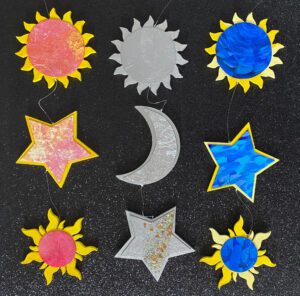 February 14,21,28
In FEBRUARY, for anyone wanting to learn something new or hone their artistic skills, ACGOW artist member Helen Roy will  teach a three-session workshop on Creating a Mobile. Ages 12 to adult are invited to attend. No experience is necessary.
The 3-week workshop will take place Tuesday afternoons from 3:30-5:30 at the Gallery. The price for this workshop is $105.  All materials are provided and participants must sign up for all three classes to complete their mobile.
During the workshop, students will create a colorful, 5-piece, indoor mobile with acrylic paint, acrylic paper, fishing wire and laser-cut wooden pieces of Sun, Moon, and Stars. Each participant will design their own color palette as they craft a mobile that will fly, flow and dance in the wind.  During the workshop, participants will also learn techniques of acrylic painting and color mixing as they fashion a mini seascape displayed on a small easel. 
The workshop is limited to 6 and participants, who must sign up for all three classes.  Preregistration and payment are due prior to the first class.  To register or learn more, stop by the gallery or contact Helen Roy at drhelenroy@yahoo.com or 401-419-4538.
Our United in Arts Community Gallery is part of ACGOW's Community Outreach program. The Community Gallery is a dedicated space where ACGOW hosts artwork from regional schools and community art groups who do not have other venues to display their work.
For each of seven months of the year, at no charge, a different group or school has sole use of the United in Arts Community Gallery room. This opportunity provides an avenue for these organizations to promote the work of their members and students.
Some groups who have showcased in the Community Gallery include area public and private elementary and high schools, amateur art groups, and local non-profit organizations such as the Pawcatuck Neighborhood Center and The Frank Ocean Center for persons with developmental disabilities.
Any interested group can contact us at 401-596-2221