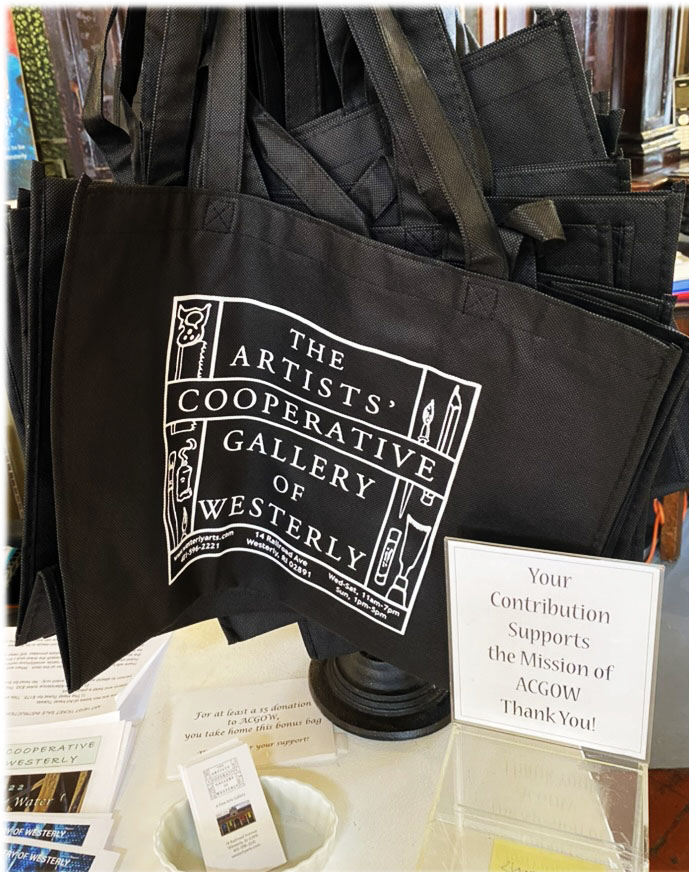 For 30 years, The Artists' Cooperative Gallery of Westerly has served as the anchor of an emerging arts center in Westerly, RI. We hope that you have enjoyed taking part in one or more of the many exciting events we offer throughout the year. Each month, we exhibit a new show featuring our members and visiting artists. We host openings, student shows, lectures, workshops and classes in our Fine Arts gallery space.
Our mission is to support and nurture the Visual Arts in the greater Westerly/Pawcatuck area. We do this by increasing awareness and appreciation of the Visual Arts, building an Arts community through mutual support, cooperation and education and providing artists with an opportunity to develop, exhibit and sell their work. In order to meet our mission and serve as an important cultural resource, we rely on the generosity of individuals and corporations for support.
Without the assistance of art-loving individuals like you, we would not be able to nurture the artistic landscape of our community.We strive each day to establish Westerly's downtown area as a significant Arts destination in southern New England, but we cannot do it alone!  We hope that you will consider a contribution in support of our efforts through a tax-deductible donation.
Your generosity will make a difference by enabling us to continue our work and enhance the quality of life in Southern New England. Your gift will signify an investment in the Arts and a commitment to strengthening our community. Every donation makes a difference, and on behalf of our artist members, I thank you for your continued support!
Sincerely,
Arlene Piacquadio, President