Current Exhibition, September 2022:
"Local Color" and "The Peace Show"
August 31 - October 2,  Opening Reception, September 2,  5-8 pm
Featuring: Donna Mazzone and Jessica Turgoose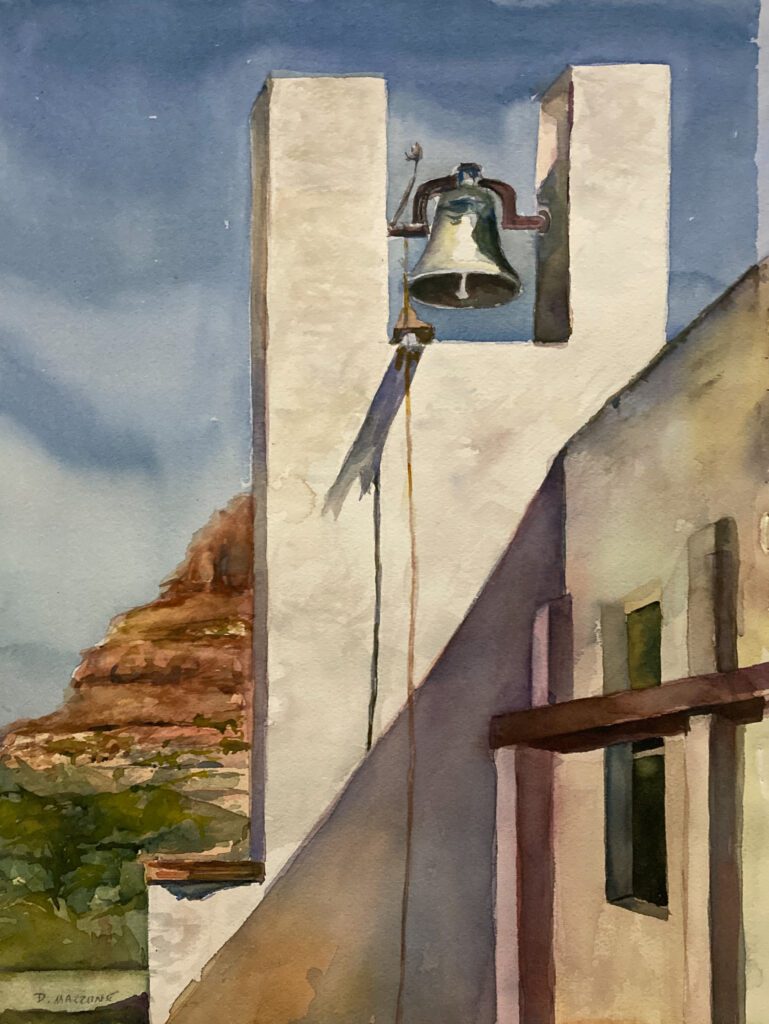 Donna Mazzone
      Featured artist Donna Mazzone dubs her September display "Artist's Journey."  A plein air watercolorist, Ms. Mazzone immerses herself in the environment during her process which, she says, always brings her a sense of peace.
      Her paintings for this show will include images of Narragansett Bay, Rhode Island,  Sedona, Arizona, Mohegan Island and Rockport, Maine, and florals from her own garden. The artist reminds us that plein air painting allows only a limited window of time to capture the moment of inspiration.
      While work often continues in the studio, Mazzone strives to keep her works fresh and faithful to her original impressions, sometimes adding pastel over the watercolor image.
       Following a 30-year career teaching art she continues to be passionate about her artistic journey and is active in other local art organizations including the South County, Wickford, and Lyme Art Associations.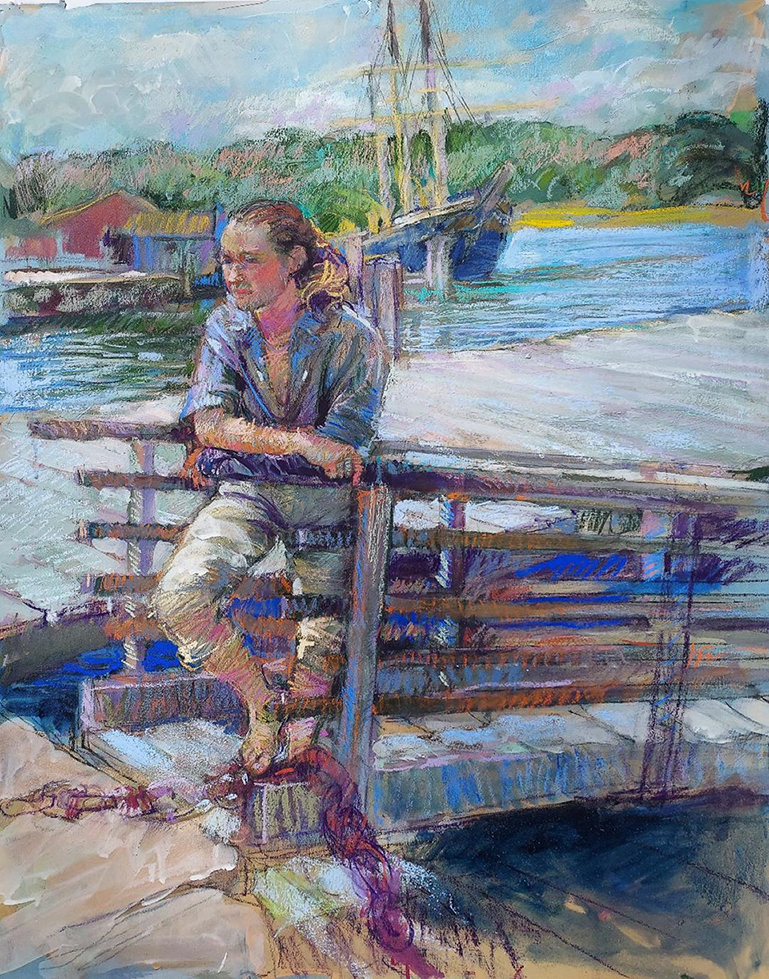 Jessica Turgoose
    Jessica Turgoose is fascinated by the hidden colors that exist within every subject that she paints, and in the light and shadows that hide a kaleidoscope of colors. Her goal is to help the viewer see these colors, and to open their sensibilities to their existence. She strives, through her painting, to reveal the essence, the light, and the personality and soul in every subject she paints. Figure painting is her first love, but she is also inspired by landscapes
      She uses a variety of layers when painting, often starting with a light underpainting of acrylic. Next, she layers pastel colors overs that, usually not blending. Instead, she allows the eyes of the viewer to mix the colors. She prefers pastels because of their spontaneous nature and their appealing texture. She works on heavily textured papers as well..
    She has been creating art for 50 years. She received her B.F.A. from Kutztown University in 1975 and attended classes at the Fleisher Art Memorial in Philadelphia. Her works have been displayed in many exhibits and juried shows throughout the Northeast and her work is included in many private and corporate collections in the US and Europe.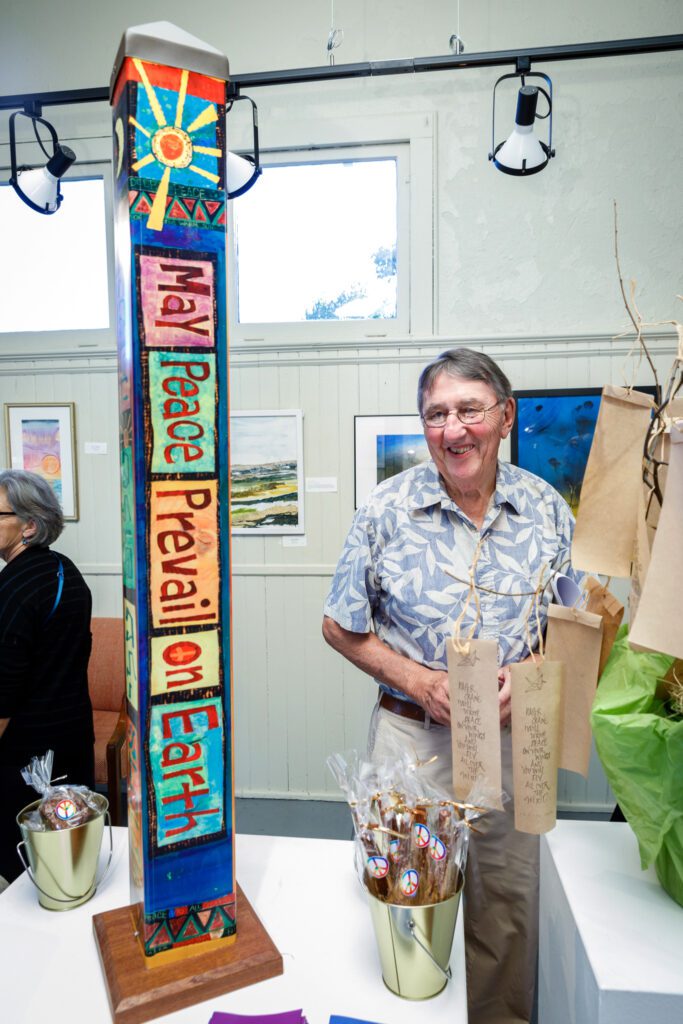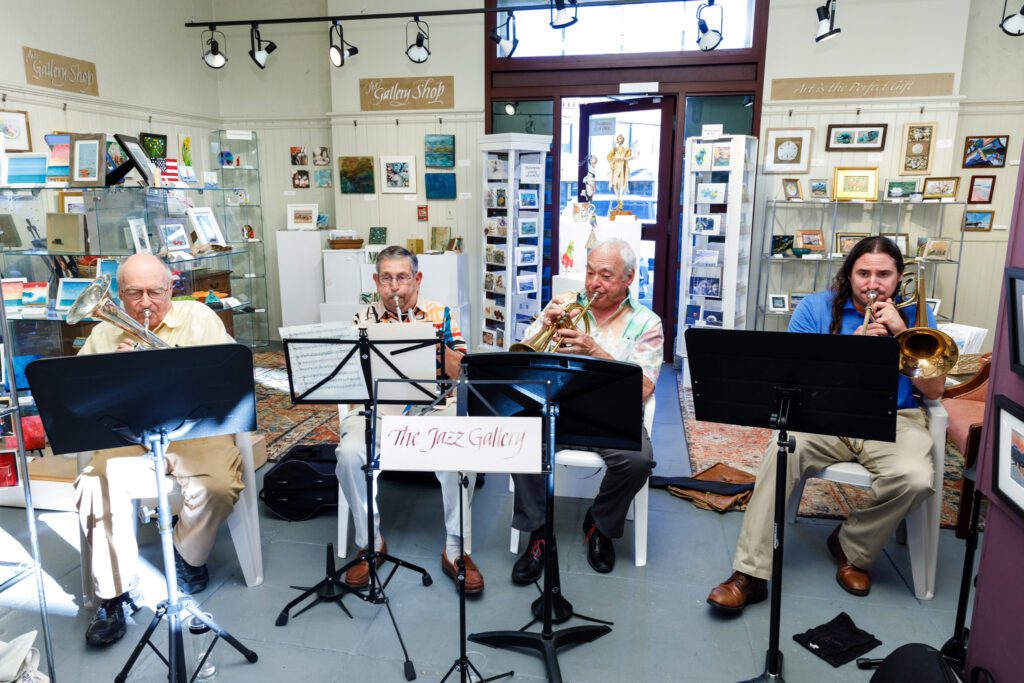 The Peace Show: Peace-Themed Images in the West Wing Gallery
In the West Wing Gallery works by ACGOW artists celebrate the theme of peace.  September 21 is recognized internationally as Peace Day and gallery artists will pay homage to the theme of peace throughout the month.
Thanks to the dedicated work of The Greater Westerly Area Peace and Justice Group, The greater Westerly/Pawcatuck area was recognized as an International City of Peace in May of 2018.  Its mission is to provide programs, workshops, and activities that teach nonviolence as a way of life, how to resolve conflicts peacefully, how to care for the environment, and how to treat all beings with respect.
The Gallery unveiled its new Peace Pole at an event on September 2 from 5:30 to 6:30 as part of its usual First Friday opening reception. The peace event will be hosted by gallery president, Arlene Piacquadio, and Frank Thacker, a generous supporter of the gallery and a leading peace activist with the Peace and Justice Group. Peace poles which originated in Japan more than 50 years ago are an iconic symbol carrying the message "May Peace Prevail on Earth."
Visitors to the gallery are invited to vote on their favorite peace-themed work of art through the month, and a number of ACGOW artists will receive cash awards based on their votes thanks to a generous gift of financial support for the event by Mr. Thacker.
A Selection of Artists' Works You Will See in September: