Current Exhibition, September 2023:
"Peace"
Aug. 30 to Oct. 1, Opening Reception Friday, Sept. 1
Featured Artists: Liz Goor and R. Douglass Rice
Gallery Hours: Wednesday - Saturday, 11AM-7PM; Sunday, 1-5PM;
Closed Mondays and Tuesdays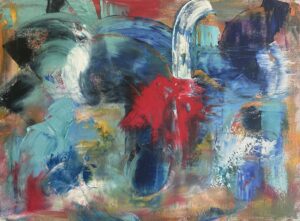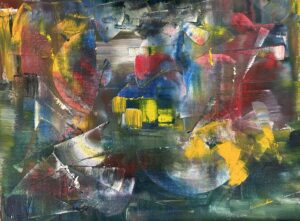 For Featured Artist Liz Goor, painting in oils has been her way of expression. For years, she painted solely in a representational style. Landscapes and still lifes were her main subjects, however, she tells us that recently, for reasons she admits she doesn't fully understand, she has become obsessed by abstract expressionism. The artist finds abstract work freeing. She reminds us that it is not merely throwing paint at a canvas, but, instead the process of finding just the right colors and forms to create a work of self-expression. Ms. Goor's work contains no hidden meaning or mystery. Instead,  it is an invitation to the viewer to find whatever their imagination dictates.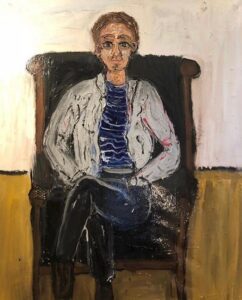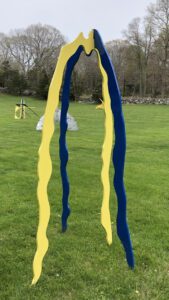 Featured Artist, painter and sculptor R. Douglass Rice will present works from a series of oil paintings he calls "James Merrill House Fellows Sitting in my Leather Chair". The James Merrill House in Stonington, CT, sponsors 8-10 writers in residence each year and Rice, through his wife's work with the organization, considers himself lucky to have had access to most of them. Rice shares that much of the pleasure of this endeavor derives from conversations he has had with the sitters about their lives and work.
Mr. Rice currently has sixteen sculptures on display in parks, estates, and museums throughout New England, including one on the front lawn of the former train station, which houses the Artists' Cooperative Gallery of Westerly.
Rice devotes equal time to his sculptures and paintings, his painting style being influenced by the famous portraitist, Alice Neal.
Through his sculpture, Standing With Ukraine, Rice pays homage to the plight of Ukrainians defending their country against the war waged against it by Russia. Such support is essential if the world is to further the cause of peace.
A Selection of Other Works You Will See in September:
Thank You to Our September Sponsor - Berkshire Hathaway HomeServices!

Thank You to Perks and Corks for their continual support of our monthly Opening Receptions!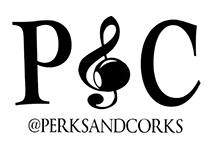 Our Upcoming Exhibitions:
AUGUST 30 — OCTOBER 1, 2023, "Peace"; FEATURED ARTISTS: Elizabeth Goor & R. Douglass Rice; Community Gallery: "Enders Island Art Institute Group"; Opening Party: Fri., September 1, 5:00 - 8:00pm
OCTOBER 4 — 29, 2023, "Annual All Members Exhibit; Opening Party: Fri., October 6, 5:00 - 8:00pm
NOVEMBER 1 — 26, 2023, HOLIDAY SHOW, "Small Treasures: The Joy of Giving"; Opening Party: Fri., November 3, 5:00 - 8:00pm
NOVEMBER 29 — DECEMBER 24, 2023, HOLIDAY SHOW, "Starry Lights"; Opening Party: Wed., December 6, 5:00 - 8:00pm (Coordinating with Westerly Holiday Stroll)